Barnett Crossbows, formerly Alpine Crossbows, was founded by Bernard Barnett. For over 50 years, Barnett has been a leader in innovative crossbow design. In 1984, Barnett introduced the Thunderbolt Compound Crossbow, and has been growing rapidly ever since, becoming today's authority in technologically advanced crossbows.
What makes Barnett's crossbows special is their incredibly fast speed and powerful, accurate shooting. As one of the most trusted crossbow brands, Barnett crossbows will continue to make advances in future crossbow design and engineering.
The Top 3 Best Barnett Crossbows
Priced under $600, the Barnett Ghost 350 CRT Crossbow is one of Barnett's top selling crossbows. It's one of the lightest crossbows made by Barnett, weighing just over 7.5 lbs. This crossbow comes in a package that includes a quiver, four arrows, and a rope cocking device, and fires at a velocity of 350 feet per second.
Owners have rated the Barnett Ghost 350 CRT Crossbow very high, commenting that this crossbow provides a big bang for your buck.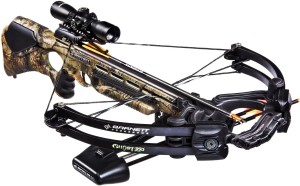 View and Check for Discounts on Amazon
Priced under $400, the Barnett Quad 400 Crossbow is an excellent value and well worth its price. It's speedy and powerful at 345 feet per second, and boasts a beautiful, flawless design and a 15.5 inch power stroke. It also happens to be our #1 pick for The Best Cheap Crossbows Under $500.
Delivering a 150 lb. draw weight and 112 foot-pounds of energy, the Quad 400 fires accurately and devastatingly fast, making this crossbow an excellent choice for hunting. The Barnett Quad 400 Crossbow is a four limb powerhouse of a crossbow, and owners are amazed by its quality and performance. They reported excellent takings in the woods, and felt that the build quality assured them of years of great hunts.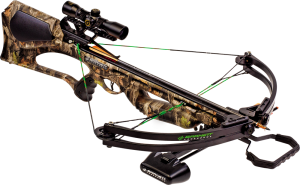 Owners stated that the Quad 400 provides more power than you will ever need, and recommended purchasing this crossbow over more expensive models because of its power/price ratio. We think its combination of speed and accuracy make it an excellent choice for both target practice and hunting of average game.
View and Check for Discounts on Amazon
Priced under $400, the Barnett Jackal Crossbow is one of Barnett's most popular and best selling crossbows. It's our #3 choice for The Best Overall Crossbows. The Jackal is considered an excellent crossbow for those just beginning to get involved in the sport of archery or hunting. It's very comfortable to use, but still manages a velocity of 315 feet per second. It's easy to assemble and to use, and includes a detachable quiver, quiver attachment platform, a tube of wax, and three arrows.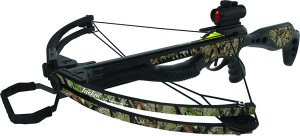 Those who own or have owned the Jackal Crossbow have left outstanding reviews for this crossbow. It is rated 4.4 out of 5 stars, and consumers can't get enough of the Jackal.
Read Full Barnett Jackal Review –>